---
NEW !
Quick Fix Service
Got a pesky problem with a table, graphic, link, etc? Unique problem-solving consult service.

NEW! - Yahoo Local
This new feature of Yahoo makes it imperative for your business to have a Web site. It's a direct replacement for using the phone book to search for local products and services.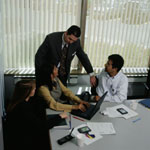 Get Me On The Web today!
I'm ready to get my business on the Web!
Please contact me as soon as possible to get started.

GetMeOnTheWeb.com
web site design tampa 33647 33612 $995 full-service web hosting getmeontheweb.com GetMeOnTheWeb Get me on the Web business new tampa FL florida tampa palms BizSitesFast.com paulfirth.com macromedia flash consultant ecommerce professional web provisioning Paul Firth Paul B. Firth url URL registry DNS registration hosting dale mabry Bruce B Downs bruce downs blvd I-75 busch low cost inexpensive business site creation