Why you need a Web site…today!
"If it's not on the Web, it doesn't exist."


It's time to get your business on the Web.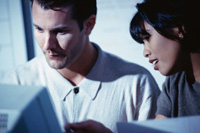 Every day more people are going to Google, Yahoo, and other search engines to find local area businesses. When they do, YOUR business should turn up near the top of the list. If your competitor has a Web site while you still do not, you're probably ALREADY LOSING CUSTOMERS!
The good news is, for the cost of a few newspaper ads, or just one ad in the phone book, we'll get your business on the Web. You don't even have to own a computer to do it. If you struggled just to find this page, you can still have your own Web site up and running in just a few days. We do it all for you.

Why is a Web site better than a phone book ad?
If you place an ad in the phone book, it will never even be seen until the next edition is printed, which could be up to a full year. And if any information about your company changes, that incorrect info will appear in print for at least a year, or as long as people keep the old book around. Your Web site can change the same day your business does!
Still not convinced? In Tampa, for example, Lowe's Hardware stores are not even listed in the yellow pages. And Home Depot has a single-line listing for only ONE of its local stores. These huge, national chains already know something that you need to put into action. People look for local business information on the Web! And we can put your business on the Web this week!

Do I have to spend a lot of money?
Although companies often spend thousands of dollars on their Web sites, for only $995 your company can have its own, professional-looking Web site. No other vendor gives you the same level of personal, professional attention at this price. Many others will do part of the work, but we'll interview you, write your copy, take digital photographs, perform all the administrative functions, create and publish your site, maintain it, and promote it on search engines. It all takes just a couple of hours of your time, requires no experience, learning, or ability on your part, and gets your Web site working for you, usually in less than a week. You'd be amazed at how often we see companies that have owned their xyz.com domain name for a year or more, but have yet to put up a Web site. Don't put it off a moment longer!
Get Started Today !
fast web site design tampa 33647 33612 $995 full-service web hosting getmeontheweb.com GetMeOnTheWeb Get me on the Web business new tampa FL florida tampa palms BizSitesFast.com paulfirth.com macromedia flash consultant ecommerce professional web provisioning Paul Firth Paul B. Firth url URL registry DNS registration hosting dale mabry Bruce B Downs bruce downs blvd I-75 busch low cost inexpensive business site creation